Ecclesiastes performed live.
How do we find meaning in an upside-down world? What actions should we take? Do our actions even matter? "Meaningless" presents the unedited, uncensored, ancient book of Ecclesiastes in a one-act, one-person performance packed with timeless riddles and timely wisdom.
Reviving the two-thousand-year-old tradition, a controversial religious text is now a live show! See why Ecclesiastes has fascinated everyone from Shakespeare to Samuel Beckett in this funny and poignant stage adaptation. After struggling to find meaning in the world, The Teacher reveals his hard-learned and unexpected answers to life's big questions. From concubines to snake charming, he's here to explain the meaningless existence of everything under the sun. Religious or not, you'll be intrigued by this mystifying 2222ish-year-old text.
---
From page to stage
This solo show is performed as written in the Bible, in a word-for-word stage adaptation from the New Living Translation. The NLT uses modern English, translated from the ancient texts by 90 leading scholars.
Controversial, but still here!
Ecclesiastes is considered a controversial book by both Jewish and Christian scholars. It contains ideas that seem at odds with many mainstream teachings. But still, it's here and it's canon!
Everything is meaningless
From wisdom to foolishness, suffering, and the meaning of life, Ecclesiastes tackles it all. Whether you are religious or not, you'll be intrigued by this centuries-old meditation performed live at a fringe festival near you.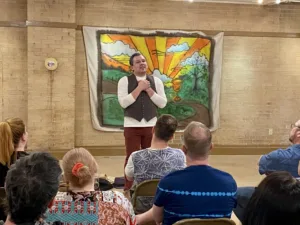 Where to see Meaningless on the road
Cast & Creative Team
| | |
| --- | --- |
| Rodney Brazil | The Teacher |
| Rebecca McCauley | Voice of The Editor (KC, Omaha, NYC) |
| Emily Etherton | The Editor (OKC shows) |
| Destyni Williams-Newman, Todd Clark | Voices in the Wind |
| | |
| Emily Etherton | Director |
| Todd Clark | Graphics & Poster Design |
| Holly McNatt | Scenic Design |
| Keith Ferguson | Costume Design |
| Scotty Taylor | Creative Consultant |
| Anna Holloway | Dramaturg |
| Roberta Sloan | Show Consultant |
| Komalty Content Strategies | Publicity |
| FreeSound.org | Sound Effect Source Recordings |